Exercise 1   
Which goes with which?
1  I'm going to tear up

2  Jane came up with

3  Paul is always making up

4  I think you should do up

5  I don't think you should bring up

6  I'm saving up for

7  We had to put up with

a  a new camera

b  a lot of bad weather

c  your jacket

d  an interesting suggestion

e  excuses

f  the letter

g  that subject
Answers
1
1 f
2 d
3 e
4 c
5 g
6 a
7 b
Exercise 2   
Look at the pictures and complete the sentences. You will need two or three words each time.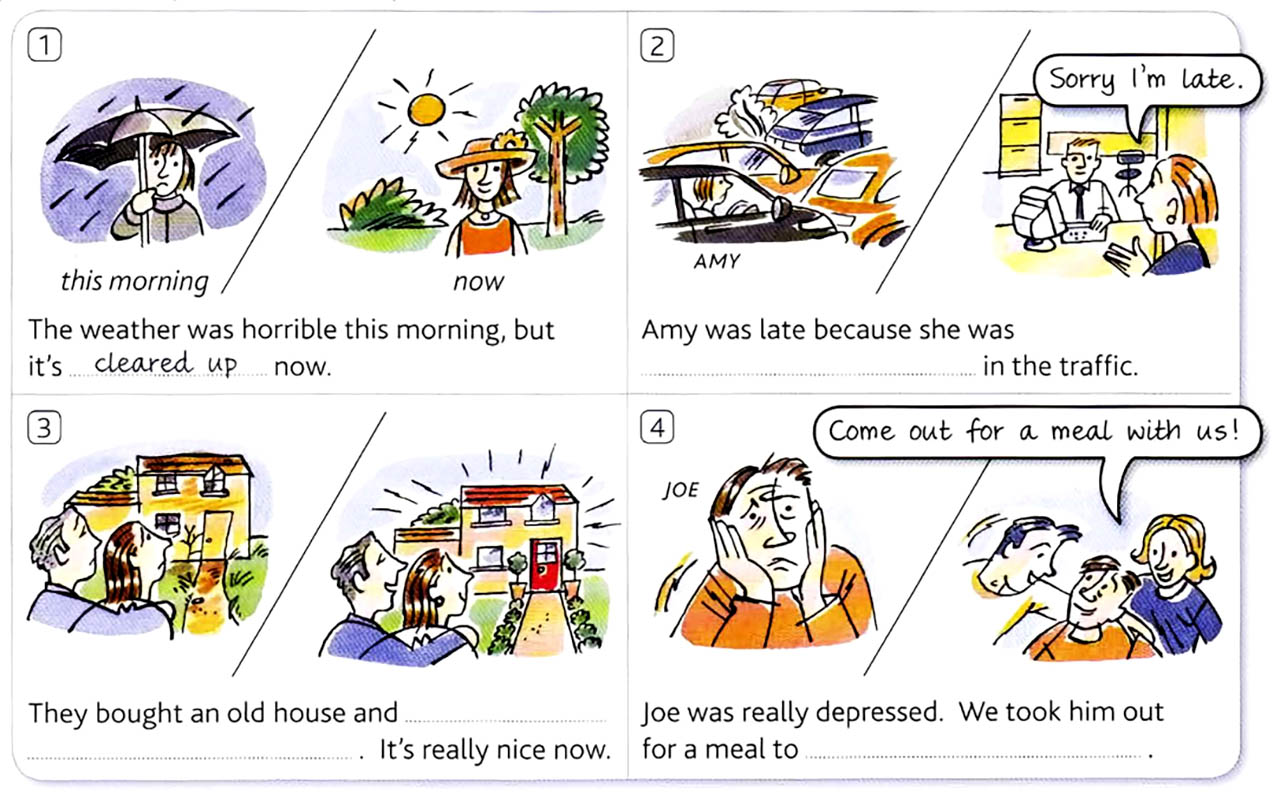 Answers
2
1  came up
2  held up
3  did it up
4  cheer him up
Exercise 3   
Complete the sentences using a verb (in the correct form) + up. Sometimes you will need other words as well.
1   Some interesting matters ……………………. in our discussion yesterday.
2   The ship ……………………. and sank. The cause of the explosion was never discovered.
3   Two men have been arrested after a man was ……………………. outside a restaurant last night. The injured man was taken to hospital.
4   'Is Robert still going out with Tina?' I No, they've …………………….
5   My hands were so cold, I found it hard to ……………………. my shoelaces.
6   I wish it would stop raining! I hope it ……………………. soon.
7   I wanted to phone Chris, but I dialled Laura's number by mistake. I got their phone numbers …………………….
Answers
3
1  hold up
2  blew up
3  beaten up
4  broken up / split up
5  do up
6  clears up / will clear up
7  mixed up
Exercise 4   
Complete the sentences using a verb + up. You will need other words as well.
1   Don't wait for me. I don't want to …………………….
2   I don't know what this word means. I'll have to …………………….
3   There's nothing we can do about the problem. We'll just have to ……………………. it.
4   'Was that story true?' 'No, I …………………….
5   I think we should follow Tom's suggestion. Nobody has ……………………. a better plan.
6   I hate this photo. I'm going to …………………….
7   I'm trying to spend less money at the moment. I'm ……………………. a trip to Australia.
Answers
4
1  hold you up
2  look it up
3  put up with
4  made it up
5  come up with
6  tear it up
7  saving up for