1. Choose the correct alternative.
From: nonna@zapnet.com
To: GHL@zapnet.com
Cc: margo35@kwikmail.co.uk
Subject: INTERNATIONAL STUDENT CONFERENCE
Hi,
Thought you'd like to know that the conference was very successful. The talks (1) were / had been really interesting and all the speakers (2) had prepared / prepared their material very thoroughly. Everyone agreed we should do the same next year.
However there were some problems with the conference centre. When we (3) arrived / had arrived, we (4) discovered / had discovered that the manager (5) reserved / had reserved the wrong room for us. This meant that we (6) didn't have / hadn't had enough space. Unfortunately, he couldn't let us have the larger room because he (7) gave / had given it to another group, which was even bigger than ours.
He (8) also misunderstood / had also misunderstood the form explaining what lunch options we (9) wanted / had wanted. In fact, we (10) suspected / had suspected that he (11) lost / had lost it. I recommend not using that venue again!
Best wishes,
Nonna
Answer
2 had prepared   3 arrived   4 discovered
5 had reserved   6 didn't have   7 had given
8 had also misunderstood   9 wanted
10 suspected   11 had lost
2. There are mistakes in all of these sentences. Correct the sentences.
1   I was pleased to see my friends from uni at the conference last week as we didn't see each other since graduation.
     … as we hadn't seen each other ……
2   By the time we reached the stadium, the match ended and the spectators were leaving.
      ……………………………………….
3   At the end of the meal, he found he couldn't pay his share of the bill because he didn't bring his wallet.
      ……………………………………….
4   We were pleased that GARY was having his laptop with him, but we were less pleased when we discovered that he hadn't charged the battery.
      ……………………………………….
5   When I came out of the cinema, I had found that a thief had taken my phone from my bag.
      ……………………………………….
6   At first the authorities thought the athlete had been using drugs, but they soon realised the lab mixed up the test results.
      ……………………………………….
7   When my cousin came into the room, I didn't recognise him because I didn't see him since he was a child.
      ……………………………………….
8   We couldn't find anywhere central to stay when we arrived in Rome, so we had decided to book a hotel room the next time.
      ……………………………………….
Answer
2 the match had ended   3 he hadn't brought
4 Gary had his laptop   5 I found
6 the lab had mixed up
7 because I hadn't seen him
8 so we decided
3. Complete the sentences with suitable verbs in the correct form: past perfect simple or past perfect continuous.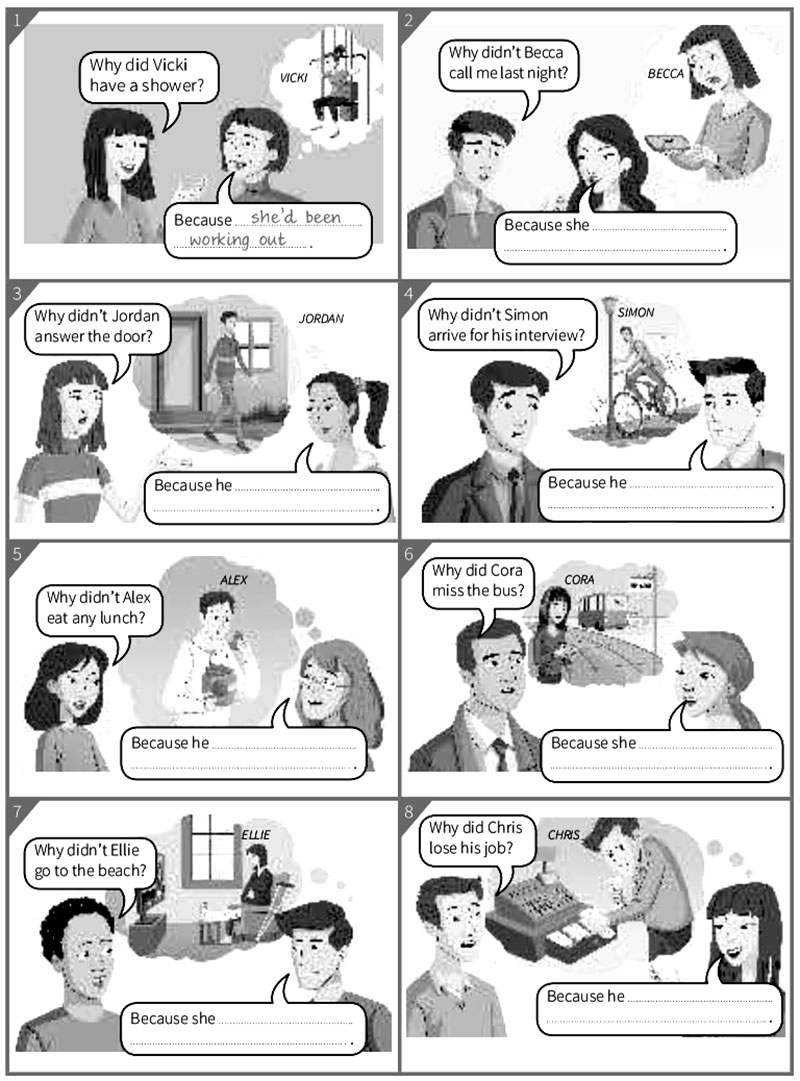 Answer
Example answers:
2 'd/had broken her phone
3 'd/had gone out
4 'd/had had an accident
5 'd/had been eating biscuits
6 'd/had been texting a friend
7 'd/had broken her leg
8 'd/had been stealing money or 'd/had stolen money
4. Put the verbs into the correct form: past simple, past continuous, past perfect simple or past perfect continuous.
Kylie has called to see her friend Gary. They are both angry.
GARY:   KYLIE, I'm surprised to see you.
KYLIE:   Yeah? Well, I think you owe me an explanation.
GARY:   What about you? (1) … I saw …… (I / see) you in the cafe with your sister last night. (2) …………………….. (We / arrange) to meet at the cinema, if you remember.
KYLIE:   So why (3) …………………….. (you / not / come) into the cafe if you saw me?
GARY:   (4) …………………….. (I / be) extremely angry. And also extremely cold. (5) …………………….. (I / wait) outside the cinema for three-quarters of an hour.
KYLIE:   But why? (6) …………………….. (you / not / get) my texts?
GARY:   What texts?
KYLIE:   The text (7) …………………….. (I / send) you yesterday afternoon. And the one from the cafe yesterday evening.
GARY:   What are you taking about?
KYLIE:   (8) …………………….. (I / walk) past the cinema yesterday lunchtime when (9) …………………….. (I / notice) that (10) …………………….. (they / change) the movie. So (11) …………………….. (I / text) you to tell you. Then (12) …………………….. (I / send) you a message from the cafe to say where I was last night.
GARY:   (13) …………………….. (I / not / get) any texts from you yesterday. (14) …………………….. (I / try) to phone you but there was no answer.
KYLIE:   What? Let me look at your phone. Yes, there's your call to me but not my texts to you. But look on my phone. Here are my two texts to you. And you can see, (15) …………………….. (I / not receive) any texts or a call from you yesterday.
GARY:   Oh, no! (16) …………………….. (My phone / not / work) properly all last week so I took it back to the shop. I thought (17) …………………….. (they / mend) it but obviously not. I'm so sorry I was angry. It's just that, well, while (18) …………………….. (I / wait), (19) …………………….. (I / worry) about (20) …………………….. (what / happen) to you. Then (21) …………………….. (I / see) you in the cafe. (22) …………………….. (You / laugh) with your sister and (23) …………………….. (I / realise) that …………………….. (24) (you / sit) there in the warm with her all evening. That's why (25) …………………….. (I / lose) my temper.
KYLIE:   Never mind. Let's forget it. Where shall we go now?
GARY:   What's on at the cinema, then?
KYLIE:   A new musical. (26) …………………….. (My sister / see) it at the weekend. (27) …………………….. (She / sing) the theme song all day yesterday.
GARY:   Oh, you must be tired of hearing it.
KYLIE:    I am. Let's just go and have something to eat, shall we?
GARY:   Yes, that's a good idea.
Answer
2 We'd arranged   3 didn't you come   4 I was
5 I'd been waiting   6 Didn't you get   7 I sent
8 I was walking   9 I noticed   10 they'd changed
11 I texted   12 I sent   13 I didn't get   14 I tried
15 I didn't receive   16 My phone hadn't been working
17 they'd mended   18 I was waiting
19 I was worrying   20 what had happened
21 I saw   22 You were laughing
23 I realised   24 you'd been sitting
25 I lost   26 My sister saw   27 She was singing