Exercise 1   
Complete the sentences using put on + the following:
a CD    the heating    the kettle    the light    the oven
1   It was getting dark, so I …………………….
2   It was getting cold, so I …………………….
3   I wanted to bake a cake, so I …………………….
4   I wanted to make some tea, so I …………………….
5   I wanted to listen to some music, so I …………………….
Answers
1
1  put the light on
2  put the heating on
3  put the oven on
4  put the kettle on
5  put a CD on
Exercise 2   
Complete the sentences. Each time use a verb + on or off.
1   It was warm, so I ……………………. my jacket.
2   What are all these people doing? What's …………………….?
3   The weather was too bad for the plane to ……………………., so the flight was delayed.
4   I didn't want to be disturbed, so I ……………………. my phone.
5   Rachel got into her car and ……………………. at high speed.
6   Tim has ……………………. weight since I last saw him. He used to be quite thin.
7   A: What time are you leaving tomorrow?
     B: I'm not sure yet, but I'd like to ……………………. as early as possible.
8   Don't ……………………. until tomorrow what you can do today.
9   There was going to be a strike by bus drivers, but now they have been offered more money and the strike has been …………………….
10   Are you cold? Shall I get you a sweater to …………………….?
11   When I go away, I prefer to be alone at the station or airport. I don't like it when people come to …………………. me …………………….
Answers
2
1  took off
2  going on
3  take off
4  switched off / turned off
5  drove off / went off
6  put on
7  set off / be off
8  put off
9  called off
10  put on
11  see (me) off
Exercise 3   
Look at the pictures and complete the sentences.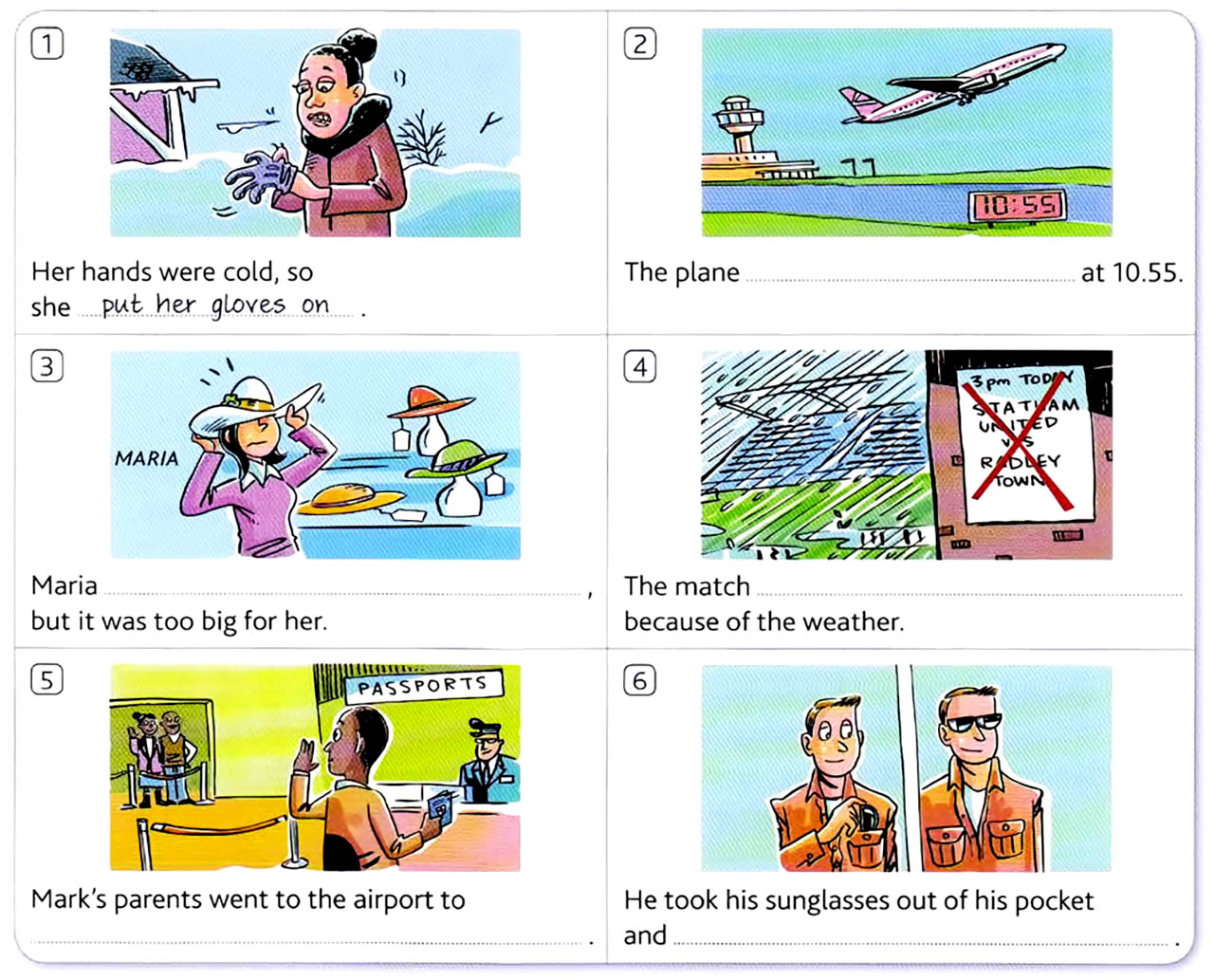 Answers
3
1  put her gloves on
2  took off
3  tried on a / the hat or tried a/the hat on
4  was called off
5  see him off
6  put them on